If you are worried about enlarged, misshapen, or uneven labia, it can impact everything from your confidence to comfort and sexual health.
Dr. Patricia Berbari offers labiaplasty to enhance patient confidence and well-being.
Learn why patients throughout Ottawa and Gatineau, QC, choose our plastic surgery office for this delicate procedure...
Labiaplasty Procedures: Understanding the Basics
Labiaplasty is a surgical procedure performed to remove excess labial tissue, the folds of skin that surround the vaginal opening. The procedure is not intended to treat the outer lips or labia majora, but the inner vaginal lips or labia minora. In some instances, after surgery, the labia minora can be completely tucked up within the larger folds of skin.
Your Consultation
Although many of our patients express embarrassment or hesitation about discussing their concerns with a plastic surgeon, dissatisfaction with this intimate area of the body is actually very common. Dr. Berbari will perform a thorough examination and discuss your treatment options with you during a consultation.
Discussing Concerns & Goals
Be prepared to discuss specific concerns and goals related to your labia. Additional procedures can treat the labia majora and surrounding areas for enhanced cosmetic results.
Are You Embarrassed by Your Labia?
So Are Thousands of Women.
Benefits of the Procedure
Labiaplasty offers physical and emotional benefits to our patients. We often hear afterwards from our patients that they only wish they had prioritized getting treatment sooner.
More Aesthetic Appearance

Overall, patients benefit from a more uniform, aesthetically pleasing vulva and vagina. This can help you feel more feminine and youthful.
Improved Comfort

Although the procedure is typically used to address cosmetic concerns on the labia minora, enlarged labia can cause discomfort during exercise and intercourse, and can even be uncomfortable in tight clothing.
Better Quality of Life

After surgery, many patients report improved comfort during activities like biking, a more satisfying sex life, and overall increased confidence.
"Amazing Experience"
Read 5-Star Reviews
I have had an amazing experience with Dr. Berbari. She was professional, kind and ethical, providing me with all the information in advance, the benefits, he risks etc. She was also superb during the follow up of my surgery, very kind and attentive. My results are what I expected, enhanced without being extreme. I highly recommend Dr Berbari!
View On Google
What an amazing experience at the clinic of Dr Berbari!! It all starts with the warmth and professionalism of her staff. I fully recommend her services for the overall great experience we had!!! We will be coming back and will be referring friends and family.

Thank you Dr. Berbari!
View On Google
Why Should You Choose Our Team?
More and more plastic surgeons are offering labiaplasty procedures. However, the results of this type of plastic surgery can have far-reaching effects on your well-being, so it is incredibly important to take your time choosing a surgeon. Consider asking yourself:
Do I Feel Comfortable?
First and foremost, you should choose a practice where you feel comfortable. We understand the decision to undergo labiaplasty, in particular, is a sensitive topic for many of our patients. Each member of the team at our Gatineau, QC, practice is handpicked for their informative, friendly manner, professionalism, and compassionate approach to care.
Is the Surgeon Experienced in This Area?
Many women also find that they simply feel more understood and confident in the hands of a female surgeon. Dr. Berbari is highly trained in vaginal treatments, including advanced techniques to reduce or balance the labia minora and labia majora. You can ask to see before and after photos of patients to gain a better understanding of her skill.
Take the First Step by Scheduling a Consultation
If you are interested in learning more about labiaplasty and how it can improve your confidence and quality of life, take the first step towards that commitment by reaching out to us. Dr. Berbari is extremely well-qualified to perform your surgery. She is board-certified by the Royal College of Physicians and Surgeons of Canada and a member of the:
Canadian Society of Plastic Surgeons
Canadian Society for Aesthetic Plastic Surgery
American Academy of Cosmetic Surgery
International Society of Aesthetic Plastic Surgery
We offer accessible care to patients from throughout Gatineau and Ottawa. Schedule a consultation at our practice by contacting us online or by calling:
Am I a Good Candidate?

Undergoing labiaplasty is an extremely personal decision. Genetics, deformity, certain medical conditions, as well as pregnancy and childbirth, can all contribute to changes or abnormalities in labial tissue. Patients should have a treatable concern and also:
Be in Good Health

If you are concerned about the appearance or function of your labia, are in good general health, and have a clear understanding of what you can gain from the surgery, you are most likely a good candidate.
Have Realistic Expectations

It is important to know that like any surgical procedure, labiaplasty does pose some risks, including post-surgical bleeding and oozing, and the very rare side effects of hematoma and infection.
What to Expect during the Procedure
"Dr. Berbari uses advanced techniques that leave no visual or palpable scars on the vagina."
The nurses and surgical team are very thorough and make you feel very comfortable. Dr. Berbari has given me so much self confidence and I could not be happier. I highly recommend her to anyone considering [treatment]. She reviews all options with you as well as provides her expert opinion on what is best for your body type and overall desired outcome. Thank you Dr. Berbari!!!
View On Google
She takes the time to explore all the possibilities of treatment and intervention with you. She has the courage to say no to unrealistic requests and what she offers will give magnificent results if you follow the instructions and recommendations.

Do not hesitate to trust her!
Thank you Dr. Berbari!
View On Google
Imagine Feeling Totally Confident in Any Clothing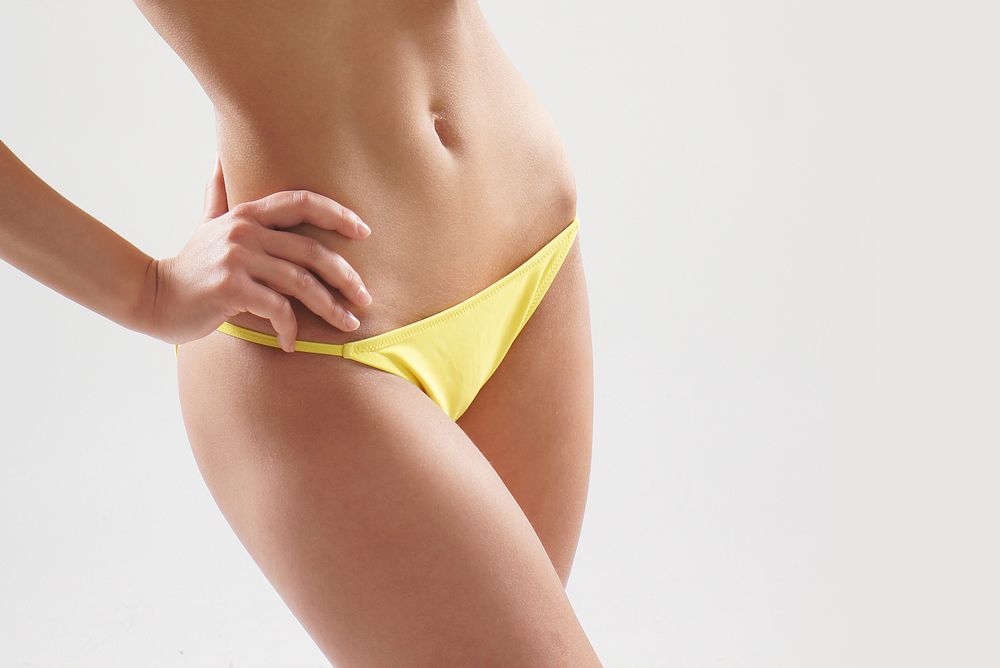 When Can I Return to Work & Other Activities?

Although this soft tissue is very delicate, women who have their labia treated can expect to return to work and other activities fairly quickly. Generally, a week should be devoted to your recovery. You can expect some slight bleeding for a few days and you might find it helpful to wear a mini-pad during this time.
Most patients do not find that their labia in pain afterward, but you can discuss your options for pain medication during your initial consultation. Dr. Berbari will provide final approval but you should be able to return to physical activities, such as jogging and yoga, within a month.