Eyelid Surgery Side Effects and Risks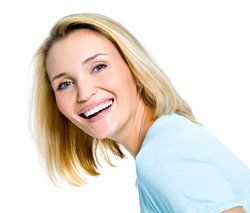 The eyes are one of the most telling characteristics of a person's face. Therefore, eyes that appear tired or worn can negatively impact one's overall appearance and persona. To help revitalize your appearance and combat the effects of aging or genetics, we offer eyelid surgery at our Gatineau clinic. This safe and effective cosmetic procedure can be a great way to correct a number of common problems in the upper or lower eyelid.
Before any surgery, though, we want all patients to be aware of the side effects they can expect during recovery. If you are considering eyelid surgery or have recently undergone treatment, take note of the following side effects and risks associated with the procedure.
Side Effects of Eyelid Surgery
Eyelid surgery, also called blepharoplasty, typically has a short and easy recovery when compared to other, more invasive plastic surgery procedures. Still, patients should be aware of the following common side effects of surgery:
Swelling: The eyelid and surrounding area will most likely swell over the first few days. Due to the placement of swelling, you may experience blurred or double vision for a few days. This will also make the results of your treatment difficult to judge at first, as any swelling will impact the appearance of your eye.
Soreness: The incisions used in eyelid surgery are small and minimally invasive, resulting in limited pain. Nevertheless, your eyelids will probably feel sore and tight in the first few days of recovery. This discomfort may be more noticeable when closing the eyes, which may also make it more difficult to fall asleep initially.
Corneal irritation: The eye's cornea may become irritated due to its contact with the eyelid. However, the eye itself should not be in any particular danger.
Changes in tearing: You may find yourself tearing up more often or, on the other hand, not enough. Both of these conditions are temporary and should subside as recovery goes on.
Drooping eyelids: Eyelids may appear droopy while they are still healing. Try to refrain from judging the results of your treatment until you have fully healed and your eyelids have adjusted to their new shape.
Risks and Complications of Eyelid Surgery
Any long-term risks of eyelid surgery are extremely rare, making the procedure considerably safe. Still, potential complications are not impossible. In some cases, patients of eyelid surgery have suffered from wound separation, cysts, external scarring, temporary eyelash loss, hematoma, or changes to vision. Thankfully, with an experienced plastic surgeon, these risks can be largely mitigated.
As with any surgery, blepharoplasty also carries an inherent risk of infection. If your symptoms persist or worsen over time, or you develop a fever during recovery, speak with your doctor about the possibility of infection.
Discuss Your Risk Factors with Your Doctor
Before eyelid surgery, it's vital that you discuss your medical history and possible risk factors with your doctor. By understanding your health, your doctor can help you have a more successful procedure. Possible risk factors specific to eyelid surgery include:
Systemic diseases such as diabetes, heart disease, and liver disease
Tobacco use
Glaucoma
Detached retinas
Dry eyes
A history of eye problems
Only by speaking with your doctor can you accurately gauge your personal candidacy and risks for eyelid surgery.
Speak with Dr. Berbari
Come in for a consultation with Dr. Berbari to learn exactly how eyelid surgery can benefit you. Contact our office to schedule an appointment, and take the first step toward rejuvenating your appearance.
Related to This